Not every government service gets the best press and few would deny there have been a few slip-ups in recent years. The import/export licensing blog is designed to keep you informed about progress on SPIRE's replacement, so we can get international traders' feedback throughout and avoid making any missteps of our own.
And since we're now spreading the word via the Notice to Exporters newsletter and the odd foray into social media, this might be a good time to take a look at what's been going on in the last few months.
Why replace SPIRE?
Obviously SPIRE works perfectly well for a lot of traders, though not many would claim she's a beauty. The replacement service is intended to help you apply for the right licence more easily, reducing the need for back-and-forth with the Export Control Organisation to make sure you're ticking the right boxes.
It should also help speed up the process of licence registration, opening new markets for international trade that previously may have been closed due to the sometimes time-consuming nature of getting a licence.
And if we can give it a design-based shot in the arm while achieving that, all the better.
Where we are
The replacement for SPIRE has been plotted and planned for a fair while now, but began in earnest in December of last year when its Discovery phase kicked off. During Discovery, initial user testing, including two workshop events with traders, led to the development of a rudimentary prototype and the realisation that a single summary page for each OGEL would be a great help for exporters. Here's how that currently looks: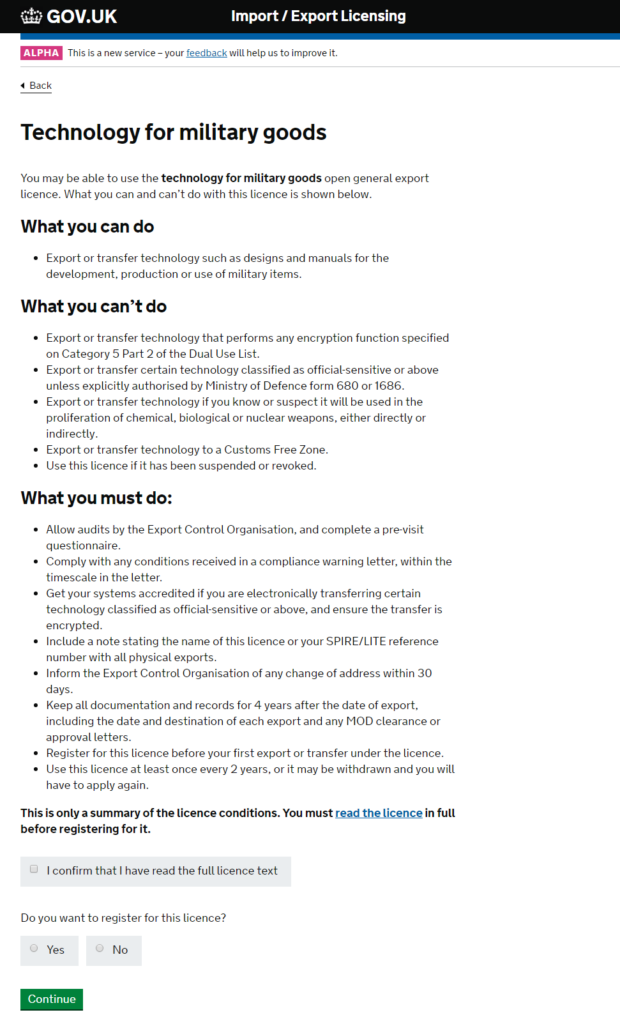 The Alpha phase then began in late February and development has continued apace. Three further rounds of user testing have helped us to flesh out the prototype, which now far more closely resembles what we had hoped to achieve during the Alpha phase.
Here's how we're currently capturing the origin and destination of an export: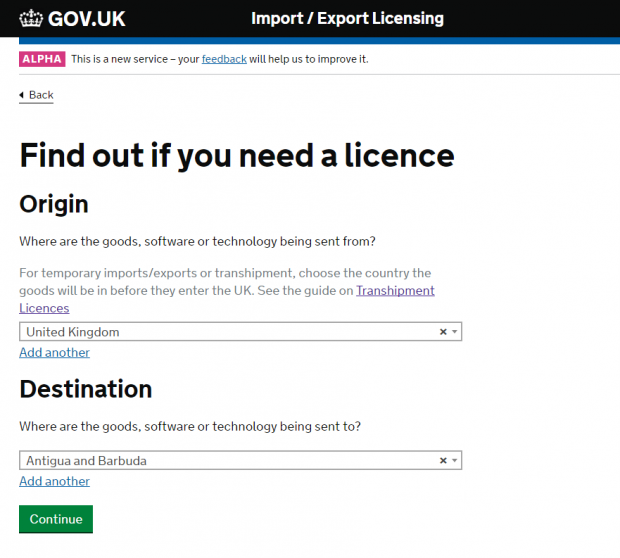 And here's how we're looking to start a ratings search: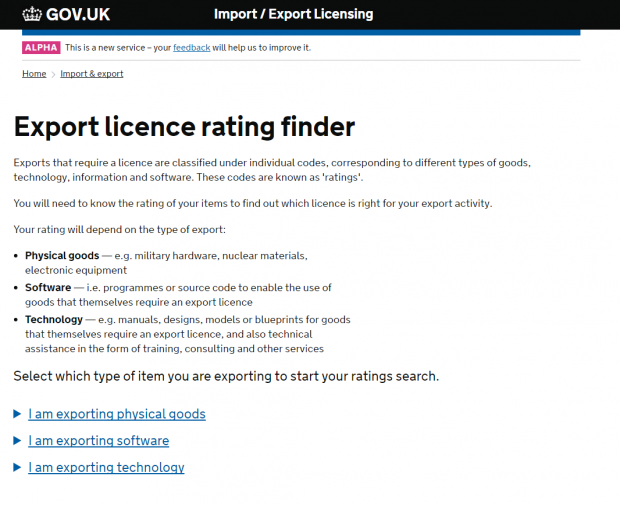 We're always on the lookout for more users to test with; if you fancy yourself as a test subject please get in touch with our lead researcher, Nataly Anderson (nataly.anderson@digital.bis.gov.uk). The more users we can show our progress to the easier it will be for us to iterate and improve the new service.
We need your help...
Development of the prototype continues. Work has just begun on a summary screen for each rating, containing a simple description of what it covers, a breakdown of relevant decontrols, with the full rating's text from the Control Lists available but hidden by default – that text can be terrifying, particularly to new exporters, but the full specs and technical notes will be needed by some.
A heavy focus will be on ensuring the search functionality of the ratings finder takes as little time as possible to get you to the right result. With that in mind we've been asking traders to fill out a simple form to give us examples of how they search for their goods, software and technology. If you're willing to help us refine our search, get in touch with Nataly at the address above.
Please get in touch if you think you can help us press on with our Alpha development. Comment on these blogs, and follow us where you find us (we're on Twitter, @digitaltradeuk). The Alpha is scheduled to end in the middle of May, but iteration and development will continue in the Beta for a few months after that, and we'll need your help throughout.