Alpha phase takes place before beta and going live. We focus on testing and increasing our service quality, fixing critical issues and altering some features in response to early feedback.
Eight weeks of alpha development have come and gone. The prototype import/export licensing service is taking shape at a fast pace. We have focussed on the export side to start with and our team is putting together the user's journey, from finding out what license they need through to registering for it. User journeys show how customers engage with our service, demonstrating current interaction patterns and how these could change. They help us understand our customers' behaviour, help us describe a high-level functionality, taxonomy and interface and show our vision for the service.
Which licence do I need?
The first questions a new exporter asks about licenses are 'Do I need one?' and 'Which one do I need?' Our import/export permissions finder is the first step in answering those questions. Through a series of steps any importer or exporter can enter the origin, destination and a brief description of their items, and based on that information they will be able to see a short list of licenses that may apply to their products.
The full catalogue of different licences and ratings, all written in technical language, is be a daunting prospect for new exporters. Our permissions finder will take the stress out of finding the right licence and lower the barrier for those new to exporting.
Open General Export Licence Registration
Open General Export Licences (OGELs) are pre-published export, trade or transhipment licences in the public domain. There are various types of OGEL covering military and dual-use goods, generally covering the export of lower-risk goods to lower-risk countries. Unlike standard licences, which require an application to the Export Control Office, OGELs can be used following a simple registration process.
The team has been building that OGEL registration process. These pages take the user through the steps of submitting their business details, reading the OGEL's terms and conditions and confirming they'll comply with them. The priority for us here was to make understanding what you can do with an OGEL and your responsibilities as simple as clear as possible.
Testing our work
The team spent two days running a stand at the Counter Terrorism and Security Exposition a showcase for security products teeming with manufacturers and sellers of controlled goods. Here we had an audience of people buying and selling controlled goods, spanning industries, varying from sole traders to major corporations. We seized the opportunity to gather as much feedback on our work as possible.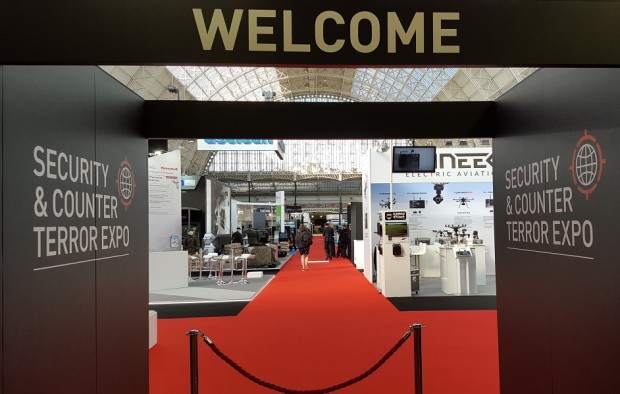 We set up on Tuesday morning with an aim to test our prototype with as many users as possible and we attracted a lot of interest despite heavy competition from people demonstrating drones, high-tech security cameras and bomb disposal robots. A lot of people were keen to tell us about their experiences with exporting and many of them volunteered to test the prototype. By the end of the two days we had tested the prototype with over 30 users and gathered contacts for a lot more future tests.
We've also been round the country visiting exporters on site to test our prototype with them. Gathering more and more feedback is key to keep iterating and improving our work.
A lot of feedback has focused on improving the search results in the permissions finder. We're always on the lookout for more users to test with. If you are willing to help us improve import/export licensing please get in touch with our lead researcher Nataly Anderson (nataly.anderson@digital.bis.gov.uk).
Digital engagement
We are also looking for feedback on the digital awareness and skills of our users. We want to ensure that we produce a clear and concise service with the correct level of support and assistance where needed, suitable for new as well as more experienced users, accessible to everyone.
To better understand our users we have set up a quick survey. Please take a few minutes to fill it out. Every contribution is a big help to our work in building a service accessible to all our users.
Follow us on Twitter: @digitaltradeuk