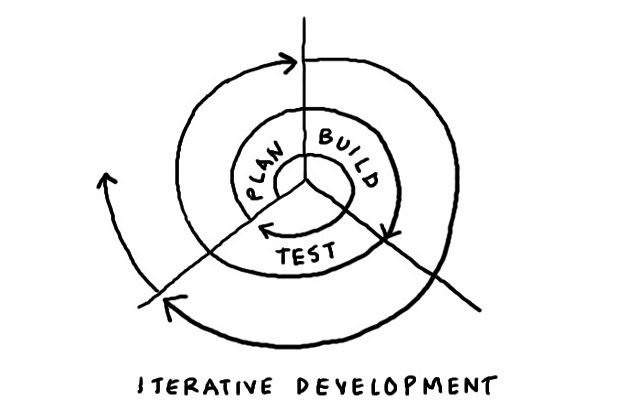 One of the most used areas of SPIRE is, unsurprisingly, the SIEL application form. Finding out which licence might apply to an export isn't much use if you can't then get your hands on that licence. Fair to say if we don't get the process for applying for a single individual licence right, we won't be able to consider this project a success.
It's a lot of work, though. Here's how we're going about it.
Agility
Everything we do on this project is done within an Agile framework. We've mentioned this methodology in various blogs along the way, but to recap this means delivering the product in stages, so it's easy to iterate and change each stage quickly in response to both positive and negative user feedback.
The opposite approach would be to build the entire thing and release it with the whole development team's fingers crossed. Get it right: pats on backs. Get it wrong and, well, the amount of effort and expense wasted doesn't bear thinking about.
If we want to get this right we need your feedback along the way. We'll be delivering the new SIEL application bit by bit so we can find out what you like about it, and what you think we've missed out.
Maintaining convenience
This might cause you to worry that some aspects of SPIRE that you need and use now might not make it across to the new service. This is a fear we can put to bed right now.
You'll be able to continue to use SPIRE until we're certain its replacement does the things you want and need it to.
We don't plan to remove any SPIRE functionality, or your ability to use SPIRE to apply for SIELs, while we develop the new system. As we deliver the different components of the new application journey we hope you'll try it out and give us your feedback.
If things are going well, you should want to switch to the new system for your own convenience. We've no interest in making your day-to-day interactions with government any harder.
Development in stages
We've mentioned that it'll be delivered as 'components', but what might these look like?
In recent days we've been having a first stab at what should and shouldn't be in scope for the first stages of delivery of the new SIEL application journey. Apart from the obvious – filling in details and submitting the application – we'll be including the capability to save and resume part-completed applications, tying in a digital version of the end-user undertaking and other things to hopefully simplify the licensing process.
That might seem pretty bare bones. In particular, exporters are going to want the ability to copy or 'clone' previous applications so they don't have to fill in the same details over and over. We'll definitely be doing that - but not at the start.
The new system's interactions with SPIRE make copying previous applications a tricky piece of development. If we include that in the first version of the new application, we're going to lose valuable time that we could have spent asking users what they think about everything else we've done.
But if we release an early version without the ability to copy or template previous applications, our researchers can be asking people to try that out, while our developers carry on working on the more complicated components. And all the while, the old functionality will remain available on SPIRE.
Early feedback
We've done a lot of work on open licences and on our 'permissions finder' tool, but now the hard yards on SIELs begin. We'd like to hear from you on what you like about SIEL applications in SPIRE. What do you need us to retain in the new service? What are your gripes with how things work now?
If you have views on how SPIRE handles SIEL applications, or ideas about improved features for the new service, please get in touch with our research team at userresearchforlite@digital.beis.gov.uk.
We're looking for your views over the next few weeks. And if you'd be happy to be a test subject for the initial version of the new SIEL application, we'd love to hear from you.
(And let us know if you think we should have used this image instead - it caused serious debate within the team!)