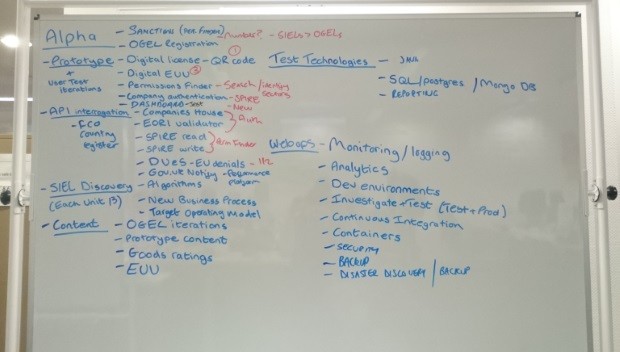 Two weeks of calm after discovery, and suddenly the controlled mayhem of alpha is upon us.
For the next phase of the import/export licensing project, which is yet to have had a shiny new acronym bestowed upon it, our previously skeleton crew has been bolstered by a raft of new arrivals. We are now this: Service Manager, Delivery Manager, Technical Architect, Business Analyst, Service Designer, Interaction Designer, Content Designer, User Research and Developers (x4). There's also a Security Accreditor prowling about, but no-one's quite sure if he's ours or not.
The first week of alpha was spent getting the new people up to speed with our work in discovery and where we hope to take the new service during this next 12-week delivery phase. Yesterday morning we had our first prioritisation stand-up, and one thing has become pretty clear pretty fast – the way users search for their goods rating, and therefore which licence may be best suited to their goods, is key to this service and without doubt our highest priority.
Devs on the case
Happily the developers have been straight on the case this past week, identifying three possible software solutions for our new search functionality: Sphinx, ElasticSearch and Solr. Each has its pros and cons which remain mystifying to a simple words man, but our chaps will narrow it down to the candidate best suited to the SPIRE replacement.
But for the search to work for our users, it'll need a pretty hefty index of terms behind it. Unfortunately, navigating the official list of controlled goods is to leave the pleasant path of GOV.UK guidance and gambol merrily into a minefield of opaque technical terms. To some extent there's not much we can do about that – 'linear and angular displacement measuring instruments' do not give themselves up willingly to plainer English descriptions – but it will be the job of our Content Designer to do what he can to make the nearly three thousand descriptions more conducive to search results. I find writing about it in the third person makes it seem somehow less real.
Another item to get to grips with early in alpha is how we're going to improve end-user undertakings. Currently the paper-based method of obtaining assurances about exports' end use is cumbersome and time-consuming, and perhaps questionable in its efficacy. We're keen to digitise end-user undertakings, though whether that'll be by sending an email to end users requesting their undertaking, or asking exporters to insert it into relevant export contracts, remains up for grabs. Talking to trade associations is likely to help us get there in this case.
Revisiting the prototype
We had a prototype working at the end of discovery, but it's now time to flesh it out, add some sensible content to it and find out how it plays with importers and exporters, many of whom have indicated they're happy to be a part of the development of the new service. One of the most heartening aspects of the project is our repeated exposure to traders who like what we're trying to do and are looking forward to seeing the next iteration, and the one after that, of a service everyone hopes will benefit both industry and the government.
The alpha way is to test and iterate, and with a healthy search capability we'll be at a good starting point to let traders try out our ideas, and tell us what works and where we're falling down. User testing is being lined up throughout alpha - little has been discussed so far without a focus on whether it will be suitable for testing with the real-life folks we hope will come to regard our service as as much a part of their life as Facebook or BBC News.
Look, if you don't aim high, what's the point?