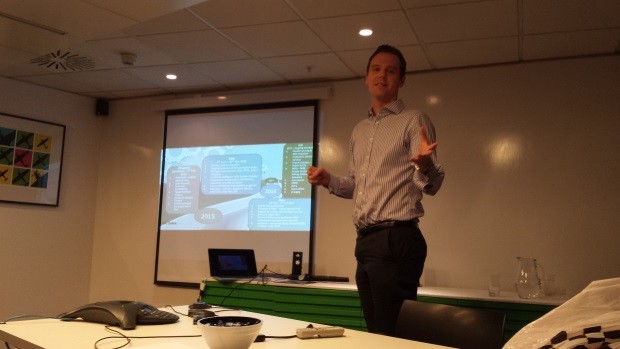 We've been picking the brains of international traders again; this is our new blog, same as the old blog. But if it's a case of déjà vu following our previous post on presenting to importers and exporters at the Salamanca Square conference centre beside the Thames, you certainly can't accuse us of not listening to our target audience.
This latest jamboree was to highlight our forthcoming move from discovery to alpha and to demonstrate where we hope to take the replacement for SPIRE as we head towards production of a prototype. We were keen to demonstrate to the traders in attendance that we listened to what they told us two weeks ago and that they still have a more than ample opportunity to influence the design of the new service.
Not that we had the same audience this time; there was a little overlap, but this mainly new group was treated to a presentation that we can describe as 'bigger' – bigger on detail and bigger on screen, addressing a concern from last time around. Our Service Designer insisted on retaining one slide with the smallest text since Teeny Ted from Turnip Town, but for the most part our traders seemed to be happy with what they saw.
Break out
Once again we broke them out into three groups following the main presentation, so that we could get real feedback on our alpha proposals. The previous event focused on theoreticals more than details, but this time we were able to listen to the concerns of this group of experienced SPIRE users, who were keen to tell us what they don't like about the existing system, and relate them directly to our alpha plans.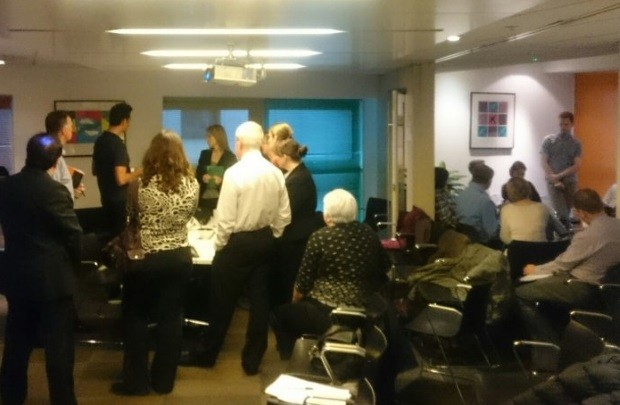 We've already realised that searching for the correct goods rating, to figure out which licence is best suited to a transaction, is going to be our biggest challenge in SPIRE's replacement. This was reiterated by the group's issues with existing search within SPIRE and the current Goods Checker tool – they were unanimous that there should be a more intelligent search capability, ideally incorporating part numbers, goods descriptions and brand names, perhaps using previous searches to build up a database of common search terms and the ratings returned from them.
Happily this is the road we've already started down, though it won't be easy and it's important for us not to over-stoke expectation, particularly for the alpha phase of the project. Our search facility will get there, but it may be the beta phase before it fully takes shape.
Mind that bus
Something that hadn't been highlighted by the previous group reiterated the need to keep talking with traders throughout development, to catch all their needs and concerns. SPIRE struggles with sharing information between accounts - when a new employee or new SPIRE user needs to see previous or open applications put in by former users within their own company, they often can't. The lady who originally brought it up gave the example of a workmate 'under a bus'. We'll definitely take a look at the ramifications of providing limited access to accounts to colleagues, consultants, agencies and others. We'll just also have to hope she doesn't decide to test our new service halfway up the Charing Cross Road – a thought that also seemed to cross the mind of the grimacing colleague next to her.
Other concerns brought up included SPIRE's interesting handling of transactions involving intangible goods such as data (it currently requires a user to enter the number of goods, which doesn't make sense), getting up-to-date sanctions information and making it explicit when a user doesn't need a licence for their deal. Our alpha will look at a lot of these, and beta is intended to scoop up the rest.
One thing's for sure though – throughout the lifetime of this project, we'll probably never be able to talk to enough traders, but we'll sure as hell do our best.