Followers of this blog might be wondering what's been going on with our prototype.
Our faithful friend has been with us since the distant days of our discovery phase. We've pushed out three or four major iterations of this prototype and made countless minor tweaks over these last few months, all in direct response to user feedback. But we're now at the point where the prototype, while not being retired just yet, is no longer going to be updated.
This doesn't mean we've stopped working on the SPIRE replacement service; this is no goodbye from us. What's happening now is our development team are hard at work building the full service that will eventually go live online.
The prototype has served us well as a proving ground for ideas and as a way to respond to your feedback, but it lives in a bubble away from the other services it needs to connect with, meaning we've been able to hammer it hard in testing with no fear of breaking anything that matters.
But while our developers plough on with the tough work of building the full service that will integrate with all the back-end systems and technologies we've chosen, we're still keen for exporters to use our prototype and tell us what they think. So here's what's been going on with it lately, to get it to its final iteration.
When is an export not an export?
While testing with non-expert users, we've realised that the language we've sometimes taken for granted in and around export control is not universally understood. Most notably, something that might obviously be an export to some might be anything but to others.
This led us to change the page that's intended to direct users towards import, export or other trade activities and the various licences for each. This is where this part of the prototype has ended up.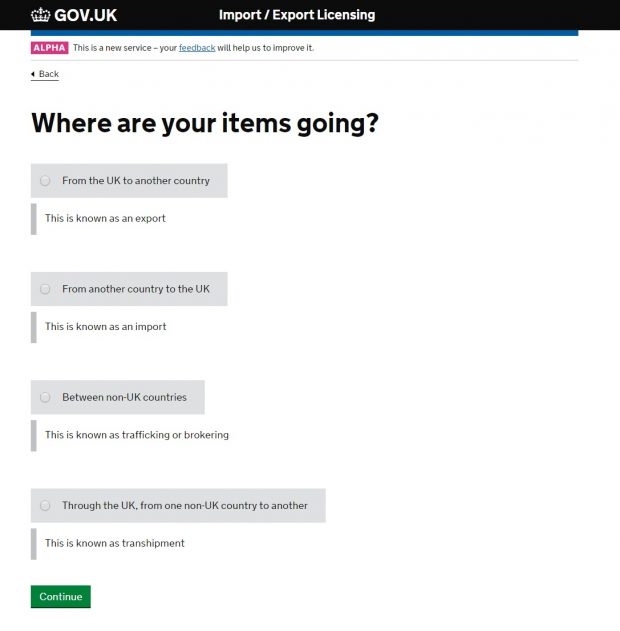 And we're the first to admit that this might not be great. We've tried to focus here on covering as many bases as we can but this is perhaps the page we ourselves are least happy about in the prototype.
We haven't yet had the chance to seriously test this page with users - it may yet get a positive reaction - so any feedback from readers of this blog about it would be very gladly received. Do the definitions of each option help? Are there too many words on this screen? Would you be happier seeing specific activities here instead, such as 'I am taking items out of the UK for personal use' and 'I am selling items to a company overseas'?
When is a gun not a gun?
We've also retained the same set of goods categories we had from the start.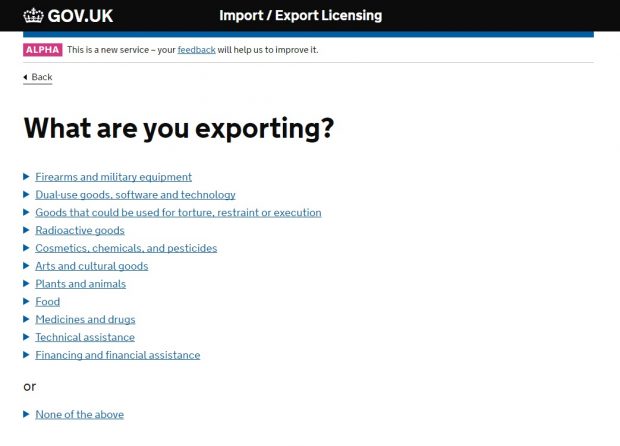 These may not be complete – waste needs to be added, for example – and how we handle dual-use goods here is a particularly tricky issue. We're also mindful that military and non-military firearms should perhaps be separated from each other. These issues will be addressed in our next batch of testing so you can expect some changes in this area.
Streamlined search
Where we have updated things is on our 'search' page, to make it clearer that the additional fields are optional.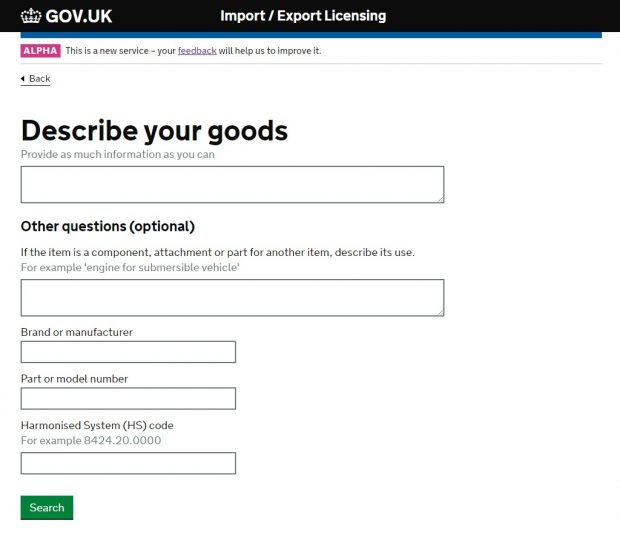 Testing has shown that experienced users are keen to see these extra fields. They're also useful to help build up our database of keywords behind the scenes, making the results more accurate. But we've seen non-expert users worried that they need to hunt about for part numbers or HS codes, so hopefully making these very obviously optional will make this page work for everyone.
On the whole our search results page and the subsequent summary page for each individual classification in the Export Control Lists have been well received in testing.
This final version of the prototype has led us to split up subsequent pages, however. Anyone who's looked at the full control lists will know that classifications are often accompanied by additional information, from items that seem to fall within a classification but actually don't (known colloquially as 'decontrols'), to complicated technical notes and specifications for goods, software and technology.
For any given classification you might see decontrols, additional specs that are too complicated or wordy to put into a short description of the item, or details on, for example, how to measure the ion beam current of electromagnetic isotope separators. We can't just ignore this information – some exporters actively seek it out – and the prototype now incorporates many, though not yet all, of these extra bits and bobs.
Adding the registration process
Other screens in the prototype include the plainer-English OGEL summaries, which our test subjects have found very helpful so far, and the various screens required to register for an OGEL. This part of the process has only recently been added but isn't hugely different to the registration process in SPIRE, OGELs being pretty straightforward to register for (you don't need much more than your name and address).
Each screen in this prototype can and likely will be changed in the full build of the new service. As we ramp up the pace of our user testing we'll continue to build on what's in the prototype, but you won't see any more changes reflected in it.
That said, as the backbone of what we're trying to do, the prototype has been and continues to be hugely useful as a communication tool between ourselves and exporters keen to understand how and why we're doing what we're doing. We continue to value feedback on the prototype – you'll just now have to wait longer to see that feedback taken into account as that'll be in the private beta build (and subsequent public beta).
To let us know what you think about what we've done so far, or if you're interested in helping us test the next iteration of the service, please get in touch with our user researcher Nataly at nataly.anderson@digital.bis.gov.uk.